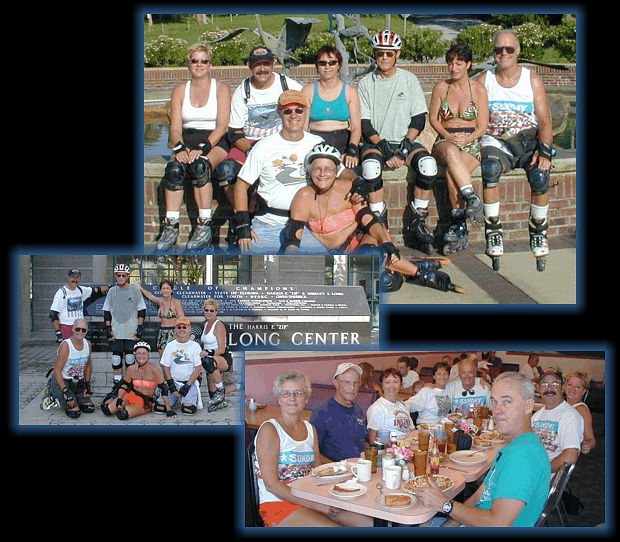 Safety Harbor Marina
We decided to do the East-West Trail today as we noticed the ugly part of the North-South sidewalk had been totally replaced with a beautiful 6 ft wide brand-spanking new sidewalk. The North-South sidewalk was marvelous. We discovered several areas of the East-West Trail with missing sections (under repair). However the blade over all was great. Steve G. came again. Karin brought a big stack of New Sunday Bladers Tee Shirts to pass out for those that had ordered them. These are great looking tee shirts with selections from regular tee shirts, Women's Tank Tops and Men's Tank Tops. Striking designs on both sides. They were worth the wait. Brunch was at the Athens Restaurant. Forgot to ask Rob his rating but I didn't see any faces not smiling. Believe Rob would have given the Brunch at least an 8.
Please contact Karin directly for information on the new Sunday Blade T Shirts through this email address karinkoch@tampabay.rr.com Click Here for a closer look at the Cool New T-Shirts
Congratulations to the Tampa Bay Lightning for winning the Eastern Conference Title and The Lord Stanley Cup !!! They beat

Calgary in 7 games. It was a hard fought battle one that will be remembered long into the future. Could this be the start of a Hockey Dynasty ??

Click here for more info Go Bolts !!