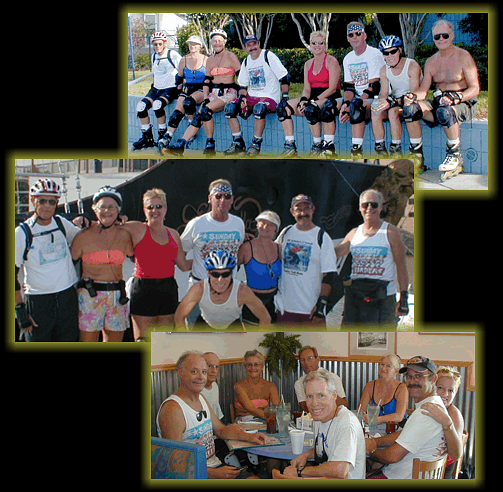 Tampa Davis Island, Four Green Fields
Another exciting blade from Four Green Fields. West Hyde Park was still closed off so a few of us had to search around to get to Four Green Fields. John joined us after a long absence. Welcome John. We bladed Davis Island out to the Davis Island Yacht Club and back. Some of us stopped off at the Pink Flamingo Cafe and reserved a table for Brunch and some went back to Four Green Fields and returned. Rob gave the Pink Flamingo Cafe an 8. Janice went on to explore a new (to us) trail in Tampa found by Linda Mase. Janice's preliminary report was very encouraging and she recommended a Sunday Blade on it. More to follow later.
Please contact Karin directly for information on the new Sunday Blade T Shirts through this email address karinkoch@tampabay.rr.com Click Here for a closer look at the Cool New T-Shirts
Congratulations to the Tampa Bay Lightning for winning the Eastern Conference Title and The Lord Stanley Cup !!! They beat

Calgary in 7 games. It was a hard fought battle one that will be remembered long into the future. Could this be the start of a Hockey Dynasty ??

Click here for more info Go Bolts !!